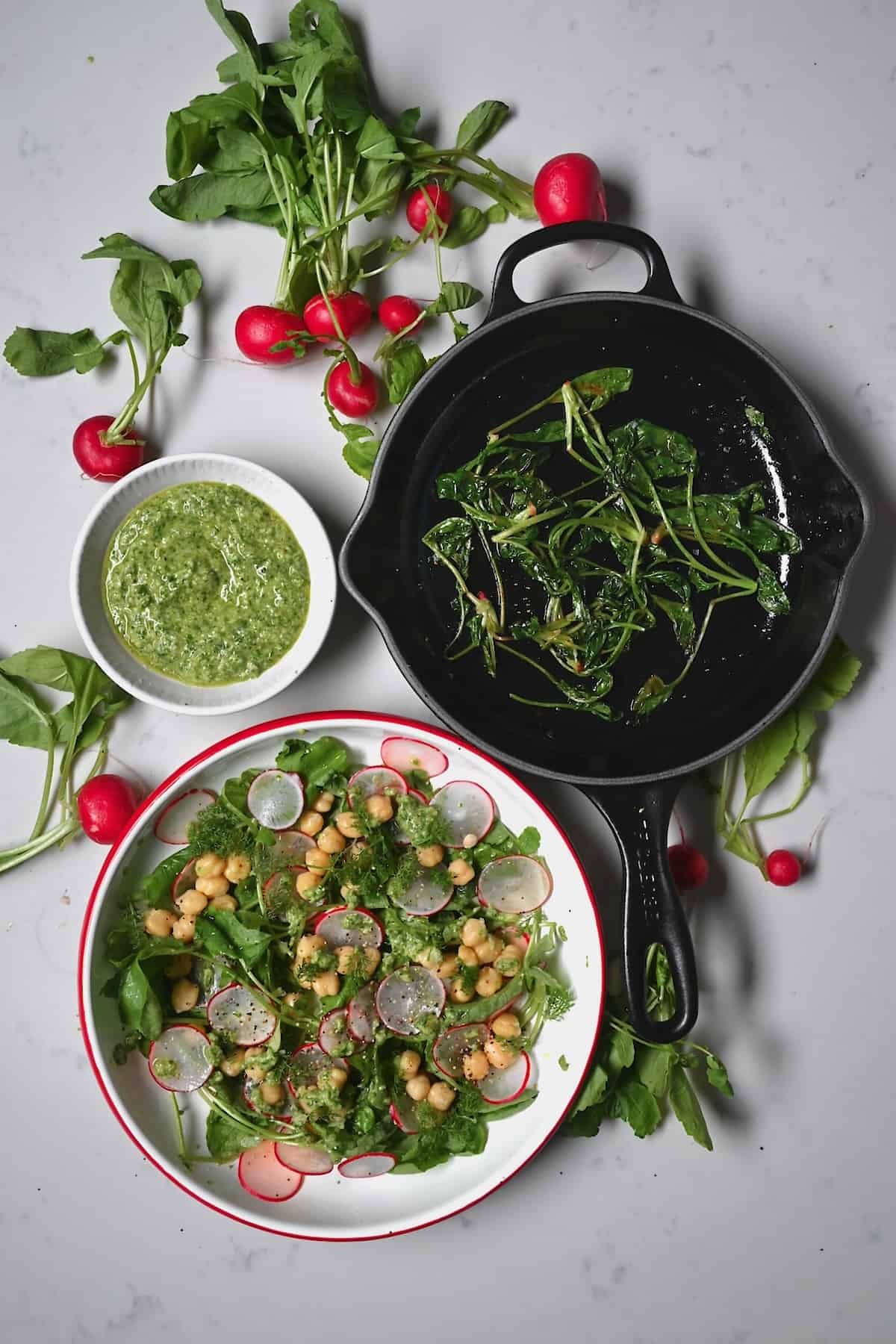 Don't toss veggie tops and greens, here's how to use them instead.  Think of turnip, radish and carrot tops as an extra bonus, not a burden.  When you get the vegetable home process them first.  By storing them attached to the vegetable, the greens will draw moisture and nutrients out, so cut them off.  They have a very short shelf life and will need to be processed within a few days.  Store greens wrapped in a slightly damp paper towel in a bag, in the crisper until you are ready to use.
Create salads and slaws: Use your fresh greens to make vibrant salads or slaws. Combine different types of greens, add your favorite vegetables and herbs, and top it off with a homemade dressing. You can also incorporate grains, proteins, or fruits to make it a full meal.
Homemade pesto: If you have an abundance of greens and herbs, turn them into homemade pesto. Blend with garlic, nuts, olive oil, and seasoning to create a versatile sauce that can be used on pasta, sandwiches, or as a marinade.
Stir-fry or sauté: Another great way to use up your fresh greens is by stir-frying or sautéing them. Heat some oil in a pan, toss in your greens with your preferred seasonings, and cook them until they wilt. Pair them with proteins like tofu, chicken, or shrimp, and serve with rice or noodles.
Bake or roast: Get creative and incorporate your fresh greens into baked goods or roasted dishes. Add greens to muffins, quiches, or frittatas. Alternatively, toss your greens with olive oil, salt, and pepper, then roast them in the oven for a crispy side dish.
If you have too much, share them with others.
Here is what we have in our store this week at www.rumarfarm.ca
Peaches
Raspberries
Blueberries
Mulberries
Stir Fry Mix
White Turnips
Beets
Garlic – mini bundles
Garlic Scapes on sale (now half price)
Green Onions
Summer Squash
Kale and Swiss Chard
Cucumbers
Peach Seconds for canning
Herbs
Fresh Eggs
Mushrooms and Honey
Ruth and Marc, Rumar Farm