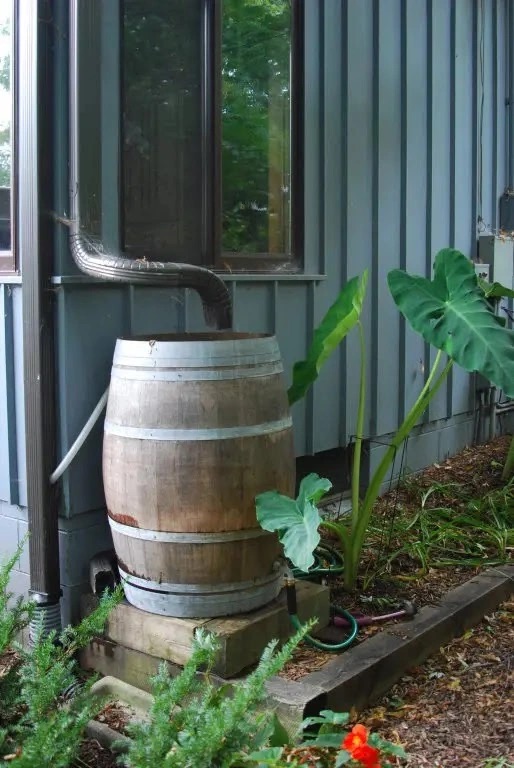 A rain barrel is an incredibly useful addition to a backyard, especially if you're looking to be more sustainable. It means you don't have to rely on tap water to keep your garden hydrated – which is better for your plants and your wallet.
The idea behind a rain barrel is simple. You connect a large vessel to the downpipe on the guttering of a building – be it a shed, a greenhouse, or your home – and the rainwater flows in, filling it.  Be aware that some problems can arise, from insect intrusion and undesirable odors to weak pressure when attaching a hose.  Luckily, these rain barrel problems can be solved, and common mistakes avoided.
Why has the water in my rain barrel turned green?
Not adding a lid to your rain barrel is probably one of the biggest mistakes you can make. One problem that can derive from this is the growth of green algae, as sunlight encourages it.  If you cover the rain barrel, the algae that is thriving there will die and the water will stay clear and wholesome – and much more suitable for watering delicate seedlings, should you need to. Keeping the rain barrel somewhere relatively shaded can also reduce algae formation.
Will a rain barrel attract mosquitoes?
Unfortunately, rain barrels can attract mosquitoes. Again, a tight-fitting lid can prevent this problem, or stretch and secure one made from mesh.  Alternatively, pour a little vegetable oil into the water.  This forms a surface layer that the mosquitoes can't penetrate, and any existing larvae will be robbed of oxygen and die.
Why does the water in my rain barrel smell bad?
Although you can still use bad-smelling rain barrel water in a watering can, an annual clean can prevent the problem and keep it fresh.  The process is easy: disconnect it from the downpipe and empty it out, including any accumulated debris at the bottom, then scrub the interior with warm water mixed with bleach, dish soap, or vinegar. Rinse and let it dry afterward.
It's also a good idea to periodically clean the gutters that feed into the water container..
Can anything be done to increase the water pressure? 
Provided the hose isn't clogged with debris, this problem is likely caused by your rain barrel being positioned too low. Creating a sturdy base for it to sit off the ground by at least a foot will increase the water pressure. What's more, it will also make it easier to fill up a watering can – and help to protect it from frosts during winter.
This season visit our on-line store to purchase your garden plants at www.rumarfarm.ca.  We use certified organic & biodynamic seeds and add barrel compost to our potting soil to ensure strong, healthy plants.  We offer a variety of herbs, tomatoes, peppers, kale, swiss chard and more.  For best selections don't delay!  All garden plants will be ready for pick up after May 7th while raspberry canes and blueberry plants are available and should be planted now.  Check us out today.
Ruth and Marc
Rumar Farm