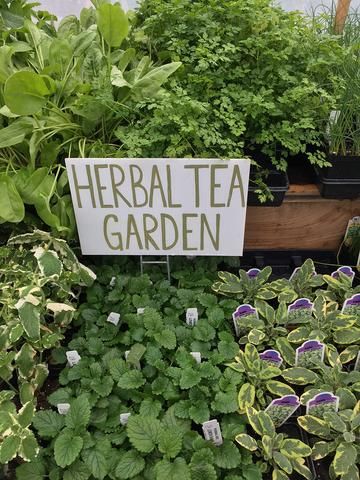 You can make a tea garden in your own backyard simply by growing tea plants and harvesting their leaves or seeds.  They are easy to grow, look stunning in flower and smell amazing.  We offer a wide variety of herbs, and here are a few to add to your tea garden.
Chamomile is a must have for any tea garden.  These dainty daisy-like flowers grow on lacey, feathery leaves and have a power to soothe frayed nerves and upset tummies.  I have distinct memories of my European mom serving me this tea when I had the stomach flu.  Its also a great sleepy time tea.  The flowery apple flavour is quite unique.
Korean Mint makes such a great tea that its totally worth growing.  The smell is between licorice and spearmint and it helps relieve nausea and other digestive issues.  It has a sweet, less intense minty flavour.  Blue-purple flower spikes make this an excellent cut flower as well.
Basil…yes basil, this incredibly fragrant annual makes a wonderfully soothing cup of tea  Its especially good served with a little lemon.
Thyme is a perennial herb that makes a lovely cup of tea lightly savory with a host of medicinal benefits.  It eases coughs and is a tension soother.
Catnip is another member of the mint family and as such has a mild minty flavour.  It has a calming effect and has been reported to help ease headaches.  Your cats will thank you for adding this perennial to your tea garden.
Lemon Balm is a lemon-scented herb which is purposed to help improve mood and decrease anxiety levels.  It has a tart, lemony taste which is great with raw honey (also find in our store at https://rumarfarm.ca/product-category/weekly-produce/)
Fennel seeds are the perfect natural aid to digestion.  Infused in hot water they make a soothing tea.  They contain antioxidants and nutrients such as vitamins A,B-complex, C and D.
There are endless combinations for herbal teas, so experiment and enjoy the aroma and emotional and health benefits of a homegrown herbal tea garden.  Visit our store at https://rumarfarm.ca/product-category/PLANTS/ for plants to get your started.
We just loaded a few more new goodies into our weekly produce tab, check it out.  https://rumarfarm.ca/shop/  You will find fresh cut organic asparagus, farm fresh eggs, rhubarb and stir fry mix.  Our famous lettuce will be ready in a week, keep checking our store as we continue to load new items daily.
Ruth and Marc
Rumar Farm